Today I had to take a client to the airport so I had some time to kill before picking up Sophia. I hit the Goodwill in Ballard which is usually a great place. It paid off. Not only did I pick up a few pairs of cute jeans and shirts for Sophia, but I scored three purses. And not just any purses.
Designer
purses.
Behold!
A motherfucking
Burberry
, y'all!
How much did this cost me? $40? No. $20? Not a chance. Okay, okay. $10? Not even! $3.99. That's right. Four bucks for a Burberry! And it looks like it's authentic, too. Not like that jacked up stupid ass fake Kate Spade I bought once.
I thought about putting the Burberry last but I'm too excited about it!
Next up is a sweet purse from Kenneth Cole Reaction that will look much better once my crap goes inside of it to fill it out. This one was also $3.99!!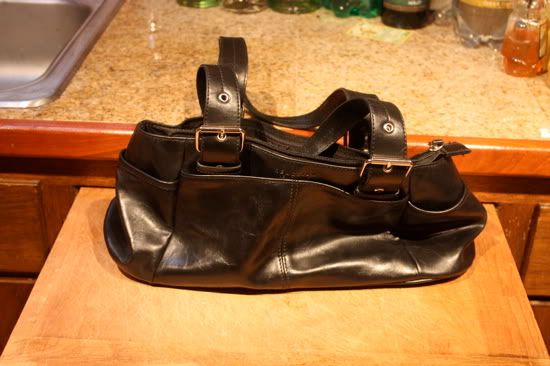 Finally, I got this cute purse by Guess for $3.00 (half off $5.99). First of all, the Burberry and Kenneth Cole purses had regular prices of $3.99 which blows my mind that a purse by Guess would cost more had it not been a blue tag day. I mean, WTF? I'm thanking my lucky stars, though. Anyway, here's the last one: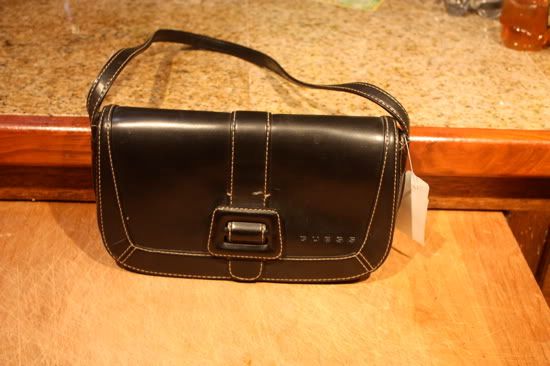 I initially got a tip from my friend, Tobie, who found a designer purse there as well. I can't remember what brand she found but she told me to look in this store particularly. Since then, I always examine the purses there carefully.
When I next sport these cute purses you know I'm going to be chuckling to myself because instead of spending hundreds of dollars for them, I got them on the cheap!